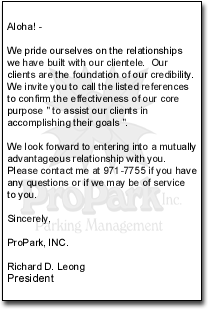 Mr. Richard D. Leong, founder of ProPark, brought many years of administrative, operational, sales, promotional, and consulting experience to form a parking management company that is efficient and noted for having the most courteous service in all of Hawaii.
Through the continuing public acknowledgement as being one of the industry's leaders, all who have been involved with and participated in ProPark's growth have gained a real sense of pride and accomplishment.
At ProPark our core purpose is to "To Assist Our Clients In Accomplishing Their Goals". This is also supported by the following core values:
Proactive Leadership and Service
Set Goals
Be consistent
Conduct regular problem solving meetings.
Recognize potential problem areas.
Carry a positive attitude of "Customer First"
Form service circle teams.
Create service standards.
Opportunities for Growth and Success
Provide guidance and direction
Coach for improved performance
Pride in Results
Work together as a team.
Create quantifiable measures.
Meet deadlines
Style and Grace
Be consistent in service
Treat others in a memorable manner

Here at ProPark, we strive to uphold and live by these values day after day. We are confident that with the continued pride and professionalism shown by our employees, we will continue to enjoy growth and success.