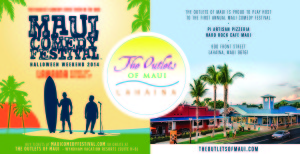 Its that time of year again when all the ghosts and goblins, witches and warlocks come out to play on Front St. at Lahaina, Maui.  This year an added attraction is the Maui Comedy Festival.  The Festival will be held From October 30, through November 2nd in various venues throughout Lahaina.  Some of the Comics performing include:
And many many more.  Special event parking will be available at the Outlets of Maui.
Come joins us for spooks and fun!!